Resources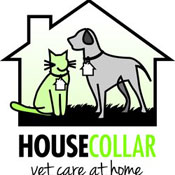 House Collar Vet Care
Dr. Andrea Leach first decided to start a home vet care business during veterinary school in Athens, Georgia. She realized how much more comfortable a vet visit could be for both the pet and the pet owner if it took place at home instead of a vet's office. After externing and working at traditional vet practices in Georgia during her education, then working for over 3 years as a veterinarian in the military in California and Washington state, she is thrilled to have her dream job: she provides friendly, compassionate home vet care to San Diegans who prefer house calls.

Peticures by Tess
Tess offers a relaxing, pain-free way to trim your pet's nails. She starts by using a lavender aromatherapy during T-Touch massage to help your pet relax. Instead of the traditional clippers, she uses a Dremel tool to file the nails back, then she hand-files and hand-buffs each nail for a smooth and polished finish. Your pet's nails will be short and left with no sharp or ragged edges that can catch on fabrics or carpeting. The best part is that this is stress-free and pain-free for your four-legged loved ones!

Labs and Friends
Labradors and Friends Dog Rescue Group is a 501(c)3 animal rescue group whose mission is to help save the lives of homeless Labs, Lab mixes and Lab "friends" from high-euthanasia shelters in California and across the southwest. Founded in 2007, our all-volunteer group of dedicated men and women have placed over 2,000 dogs in loving homes in Southern CA and the surrounding areas.

Kensington Vet Hospital
A neighborhood based practice in the Mid-City area since 1990. We pride ourselves on offering the best possible blend of top quality conventional medicine, surgery, dentistry and grooming and integrative medicine including acupuncture, nutrition, laser therapy (Class IV), homeopathy and so much more. When your pet is a patient here, you are part of our family. Please visit our website at